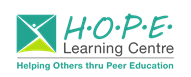 For more information, you can email hopelc@cmhask.com
Canadian Mental Health Association has been providing services in Canada for over 100 years.  We provide direct services for people that have experience with mental illness, peer support, education and training, advocacy, system navigation, Vocational programs and many other programs and supports. You can talk to us without any referrals.  We are here for everyone.
ONLINE LUNCH BYTES
Tuesdays from 12:15-12:45
December Schedule Dates
Dec 1st– Seasonal Affective Disorder (SAD) Donna Bowyer SAD -can start as soon as the leaves start to change colour in the fall.  We will be talking about some of the signs and symptoms of SAD and some strategies to help you through the months of low sunlight
Dec 8th– In-App Purchases and Addictive Behaviours in Games. GAP- Bretton Hutt- This topic will focus on in-app purchases (IAPs), randomness, and game design features that create "hooks" for players and inform their gaming and spending behaviours. The psychology of addiction and the fear of missing out will be examined in relation to game play and harm reduction strategies will also be discussed.
Dec 15th– Surviving the stress of the Christmas Season – Donna Bowyer –Christmas and other holidays can be very exciting but also very stressful. We will be talking about some of the causes of that stress and also some strategies to make it through the season with the ability to enjoy the holidays.
December 22nd– Introduction into Facilitator's Training- Are you leading groups?  Would you like to?    Are you adapting from in-person meetings to the Zoom format?   Would you like to feel more comfortable in groups?  The Facilitation Skills course offers ideas, examples, and opportunities for sharing what we've learned and what you've learned. Oh, and it's fun!  The eight week class starts January 18, Mondays, 1:00 to 3:00.  In this Lunch Byte, Jayne Whyte, one of the co-facilitators, gives you a "taste" of the class with ideas you can start using in your next meeting.
FREE but you must pre-register so we can send you the online link. More topics will be posted for January. There will be no Lunch Bytes December 29th -January 5th. New Topics will begin January 12th. Email me with any topics you may want to learn about.
For more information, you can email hopelc@cmhask.com